About
When accessing a message in the Secure Reader, a recipient may occasionally encounter an error during verification. Note that Virtru verification emails are for one-time use, have expirations, and are both browser and device-specific.
One such error reads "There's something wrong..." and can occur for a variety of reasons. Most commonly, users encounter this error when switching machines or clearing the browser cache during the verification process.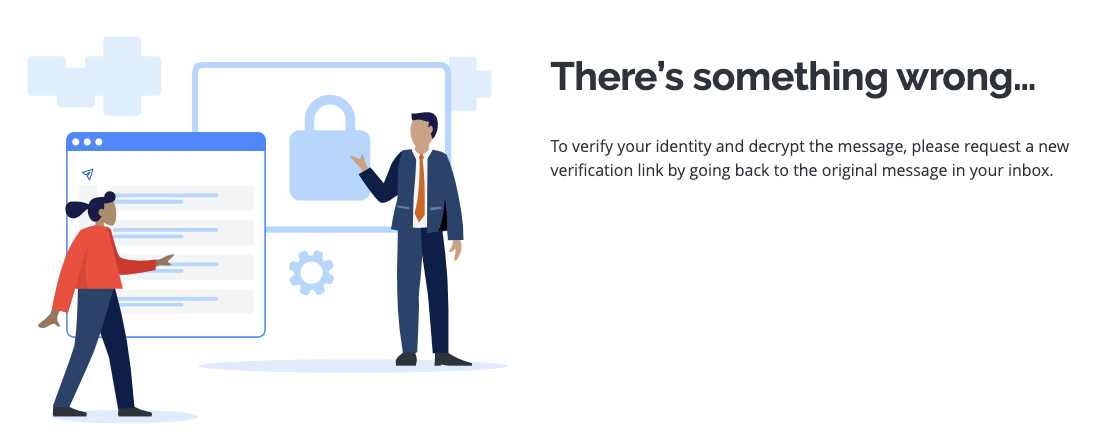 Steps to Troubleshoot
If the above error is encountered, we suggest to restart the verification process from scratch:
Delete all

verification

emails from

verify@virtru.com and/or

verify+XXXXXXXX@virtru.com (with each "X" being a digit).
Click Unlock Message

in the original email from the sender.
Select or enter the applicable email address that received the secure message.
If prompted, use the Or sign-in with a one-time verification link verification option.
Open this new verification email on the same device and browser from which it was requested.
If you are still having trouble after starting the process from scratch, the verification process can be performed manually with the following steps below:
Return to the original message (with the "unlock message" button)

Do not click on

"unlock message". Rather,

right-click, and select ​ "Copy hyperlink" or "Copy Link Address" depending on your device/platform.



Paste the link into your preferred browser

When you go through the process of verifying your identity and receive the verification email, again

right-click

, copy the link and paste it into the same browser that you chose in Step 3