About
When trying to access a message in the Secure Reader, a recipient may occasionally encounter an error during the initial unlock steps. One such error reads "Error unlocking message" and can occur for a variety of reasons. Most commonly, users encounter this error due to local settings.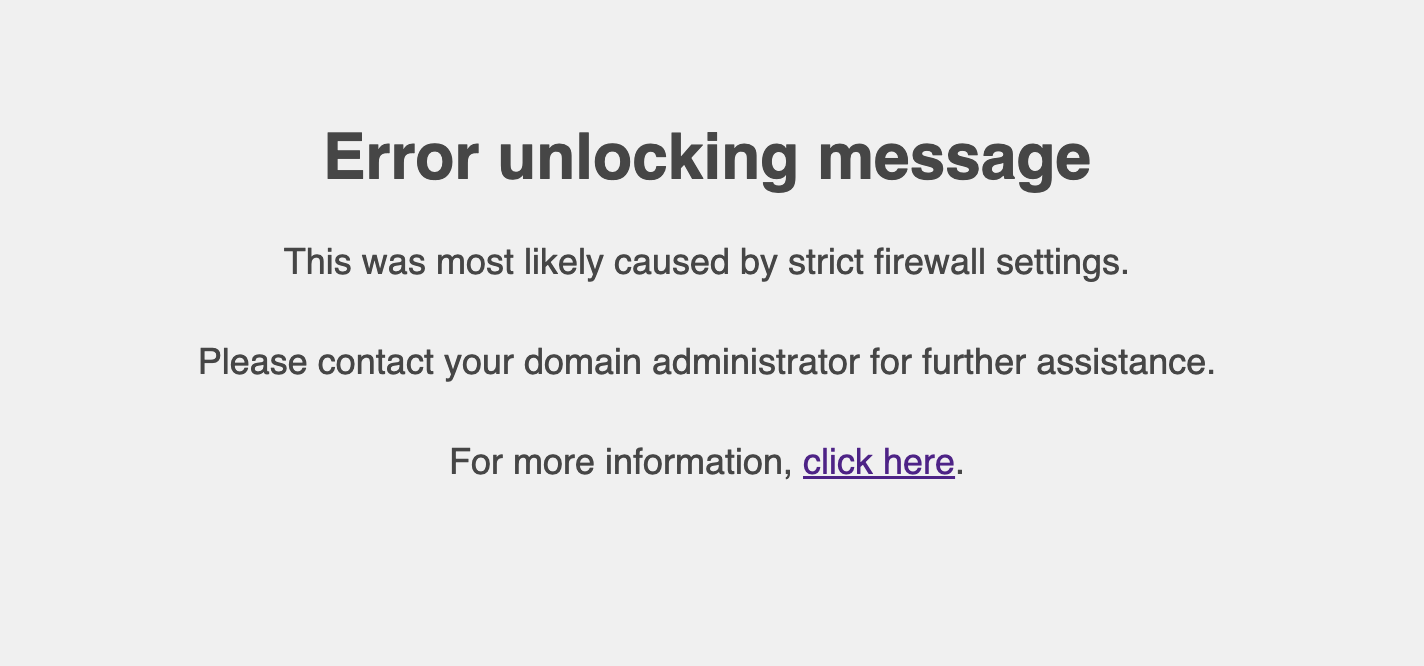 Steps to Troubleshoot
Try Another Browser
The easiest and quickest troubleshooting step is to try another browser. If your default browser is out of date or has strict settings, it may interfere with your ability to access a secure message.
If you have another browser on the machine, right-click the Virtru Unlock Message link, manually copy the link, and paste it into another browser. If applicable, be sure to do the same with the verification link.
Extension Conflict
Another source of conflict could be an extension blocking certain sites from fully functioning. If you are using extensions in your browser, try a quick conflict test:
Close the Virtru tab
Disable the extension(s)
Retry opening the secure message
If you are now able to access your message, then an extension is interfering with Virtru. Within the extension settings, you will want to safelist Virtru URLs: What are the required endpoints for Virtru?
Cookies are Disabled
Cookies are required to access the Virtru Secure Reader. If all cookies are disabled in your browser, then you will not be able to access the message. To check or change cookie settings, please reference the following for common browsers:
Check Firewall and Local Security Tool Settings
If none of the above work, the most likely cause is a firewall restriction. In order to access secure messages, the following endpoints will need to be allowed within your environment: What are the required endpoints for Virtru?
Please reach out to your internal IT team for assistance.