About
Virtru requires an active internet connection to both send and read encrypted emails. If you compose an email while offline and attempt to encrypt that email, you will be presented with the error message below. Once your internet connection is restored, you will then be able to securely send the email and read previously encrypted messages.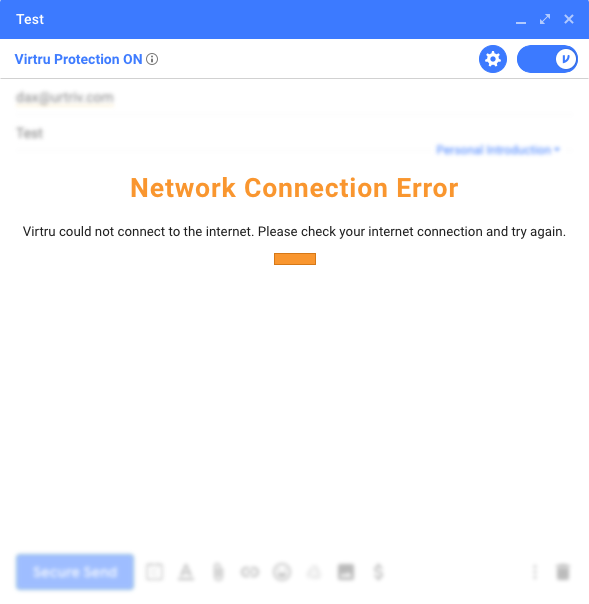 Troubleshooting
If you experience a "Network Connection Error" while using Virtru, you will need to wait until you have internet access again. Once you are reconnected, you should be able to send and read emails without issue.
If you are connected to the internet and you receive this error message unexpectedly, we recommend troubleshooting the issue like any other network connectivity issue on your machine. Specifically, we recommend:
Double check to see if your machine is connected to the internet. If it is, make sure you have a strong signal/connection.
Open a new tab and try loading a new website. If the website will not load, then there is something wrong with your internet connection.
Try disconnecting and reconnecting to the internet.
Contact your IT team and/or reset your router.
If you are on a business network, work with your IT admin to ensure that Virtru required endpoints are accepted in the network.
If you have confirmed you are connected to the internet and you continue to experience "Network Connection Errors" with Virtru, please contact Virtru Customer Support.