About
With the Virtru Outlook 365 Add-in (for Web, Desktop, Mobile), you can easily protect your emails by encrypting messages and attachments in a few simple clicks. In this article, we will walk you through how to send encrypted messages from Outlook Web Access (OWA) or Outlook Desktop. Virtru does not support sending securly inside of the Outlook mobile application.
To send encrypted emails with the Outlook 365 Add-in, you will first need to install and activate the Virtru Outlook 365 Add-in (if you have not done so already).
Steps to Encrypt
Click

New Message

in Outlook


Select the Virtru add-in inside of the compose window by clicking the Virtru icon OR the three dots.


You should then see a side panel that contains a Virtru toggle. This will allow the option to turn Virtru Protection On, the button will turn blue.


You can also pin the Virtru side panel for continued use.


You can now add your recipients, subject, the body of the email, and any relevant attachments. You also have the option to add a Custom Introduction Message along with additional security options for the message such as Disable Forwarding, Expiration Date, Watermarking, and Persistent Protection.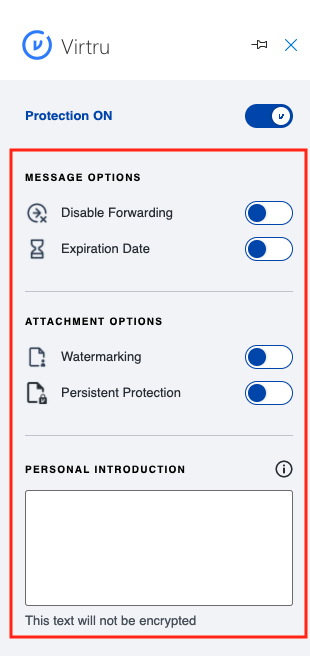 When your message is ready, hit

Send

. You should see a brief message above your secure message letting you know that Virtru is sending your secure message.

Please Note
The Virtru Outlook 365 Add-in does not currently support DLP rules. All messages that you require to send encrypted will need the Virtru plugin toggled on before sending.