There are several options for to pay your Virtru subscription - including payment via credit card, check, wire, and ACH. In this article, we will walk you through how to pay using the different methods.
Jump to:
Credit Card & ACH Payments (via Invoice)
Other Remittance Instructions
Credit Card & ACH Payments (via Invoice)
When an invoice is sent to your account's billing contact, they will see a link/button that says Click Here to Pay by Credit Card
Click that link to pay via Credit Card or ACH.
Here are the steps you should take:
1. Click View and Pay Invoice when you receive an email from Virtru billing support with your invoice notification (from billingsupport@virtru.com <no-reply@ordwayplatform.com>).
2. You will be directed to the payment page where you can add a credit card or bank account info and make payments. Click Add Payment Method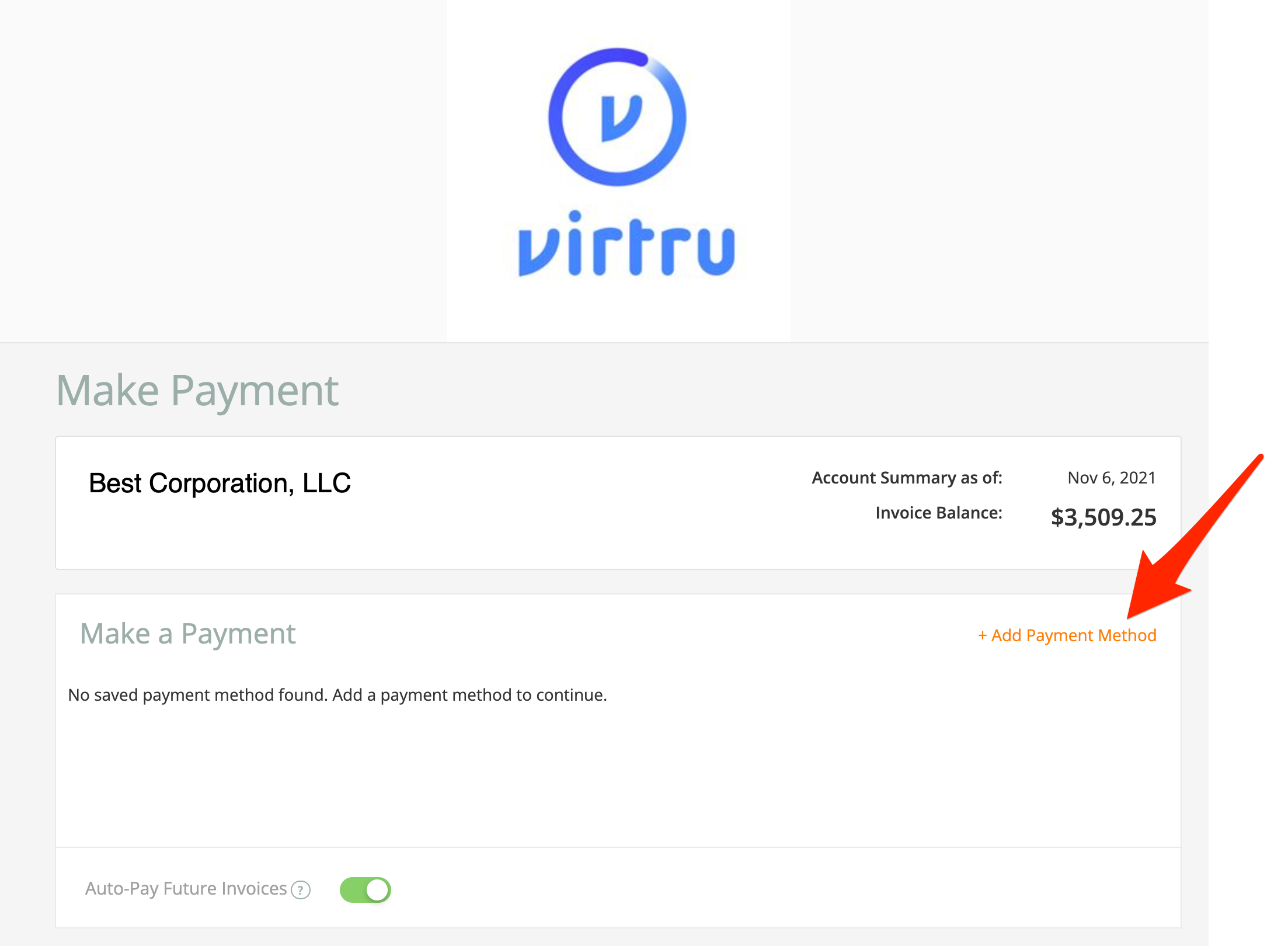 Note: Configure Auto-Pay
When adding a payment method, you will also see the option to automatically pay future invoices via the same payment method - Auto-Pay Future Invoices. You can toggle this on (green).
3. Select the appropriate option and fill out the ensuing fields - whether Add Debit/Credit Card or Add Bank account
4. Proceed to the next section and select which invoices you want to pay. You can select the check box next to Invoices ID (to select all open invoices) or select the specific invoice number
5. The amount for the selected invoices will automatically populate in the Amount to Apply field, then you can select Continue
6. The next page will ask you to confirm the payment details. Review and select Submit Payment
Other Remittance Instructions
For payments by check, wire, or electronic payments, you can follow these remittance instructions to send a payment to Virtru Corporation:
USPS mail to: PO Box 392246, Pittsburgh, PA 15251-9246
Courier (FedEx, UPS, DHL) to: Attn: 392246, 500 Ross St 154-0455, Pittsburgh, PA 15262-0001
For electronic wire payment information, please contact Virtru Support here.