There are several options for to pay your Virtru subscription - including payment via credit card, check, wire, and ACH. In this article, we will walk you through the different payment methods
Jump to:
Credit Card & ACH Payments (via Invoice)
Other Remittance Instructions
Credit Card & ACH Payments (via Invoice)
There are two scenarios where the billing contact on file will receive an invoice:
A few days prior to the subscription renewal
When a purchase has been made for a new product or additional licenses
In each scenario, the billing contact on file will receive an email that instructs them to view and pay the invoice.
How to Pay via Credit Card
1. Click View and Pay Invoice when you receive an email from Virtru billing support with your new invoice notification (from billingsupport@virtru.com <no-reply@ordwayplatform.com>).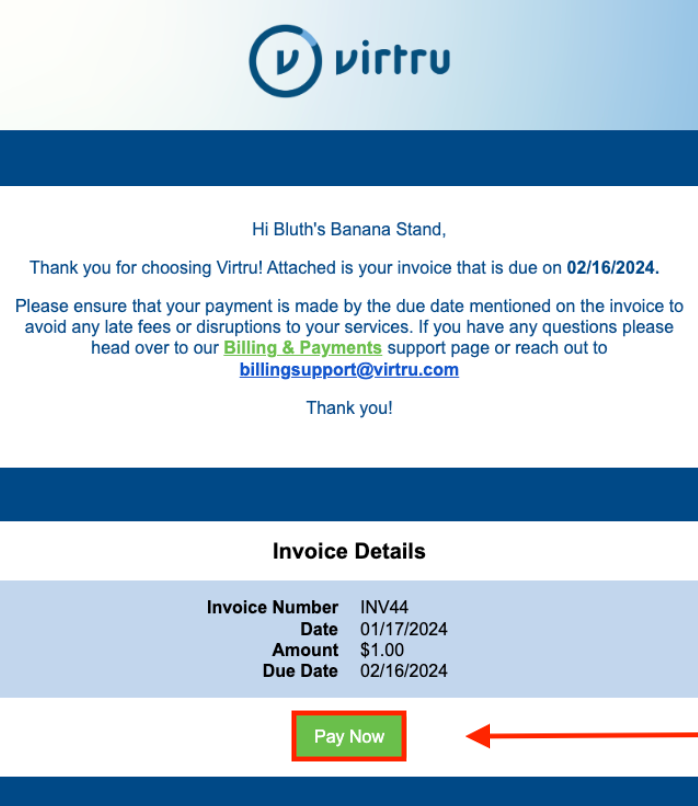 2. You will be directed to the payment page where you can pay for any open invoices (or simply add a new payment method)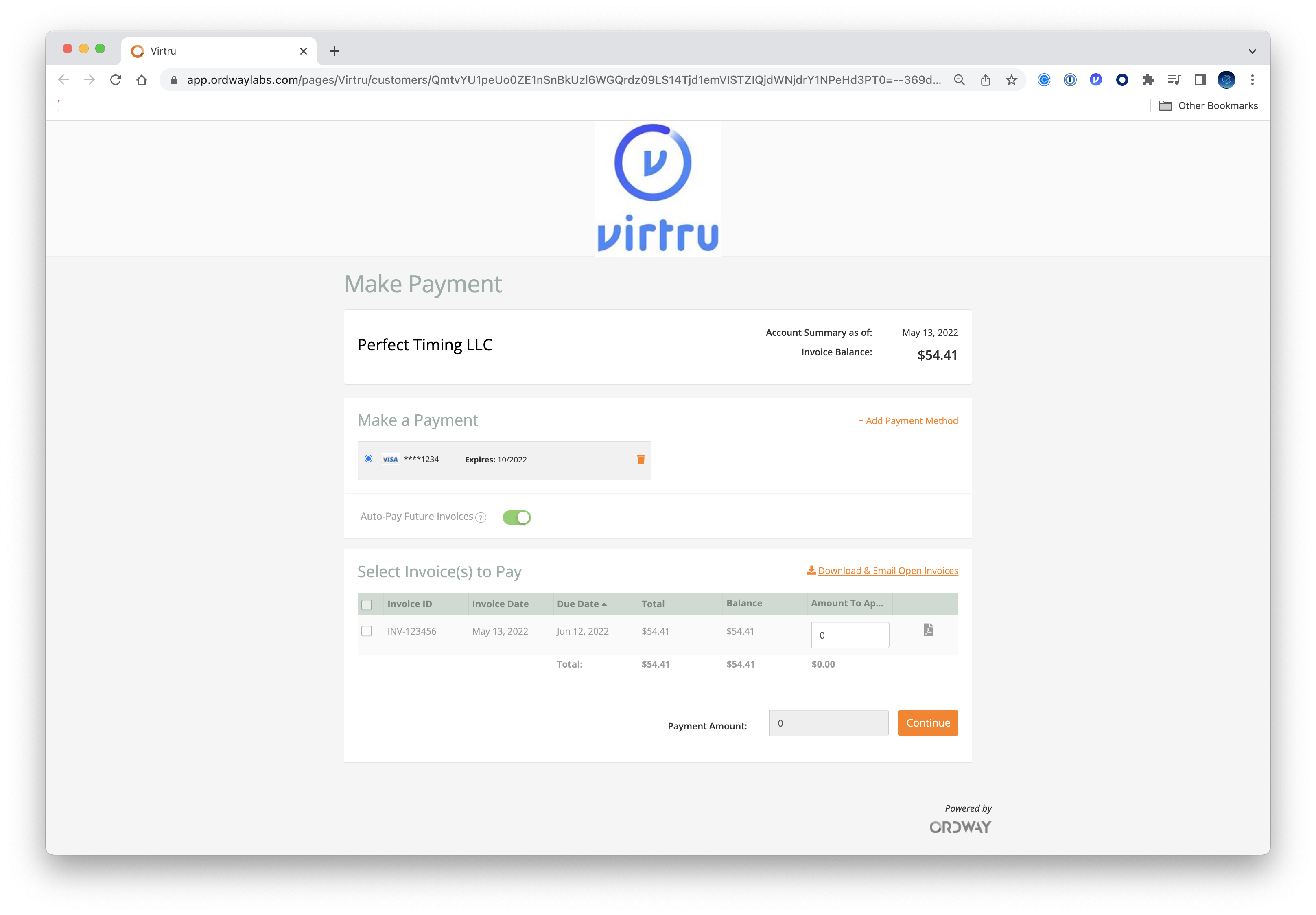 3. If you wish to pay via a different card or add an electronic payment, then first select + Add Payment Method on the payment page you landed on

4. Select the appropriate option - whether Add Debit/Credit Card or Add Bank account - and fill out the ensuing fields -
Note: Configure Auto-Pay
When adding a payment method, you will also see the option to automatically pay future invoices via the same payment method - Auto-Pay Future Invoices. You can toggle this on (green).
4. Scroll down to the next section and select which invoices you want to pay. You can select the check box next to Invoice ID (to select all open invoices) or select the specific invoice number. The amount for the selected invoices will automatically populate in the Amount to Apply field, then you can select Continue
6. The next page will ask you to confirm the payment details. Review and select Submit Payment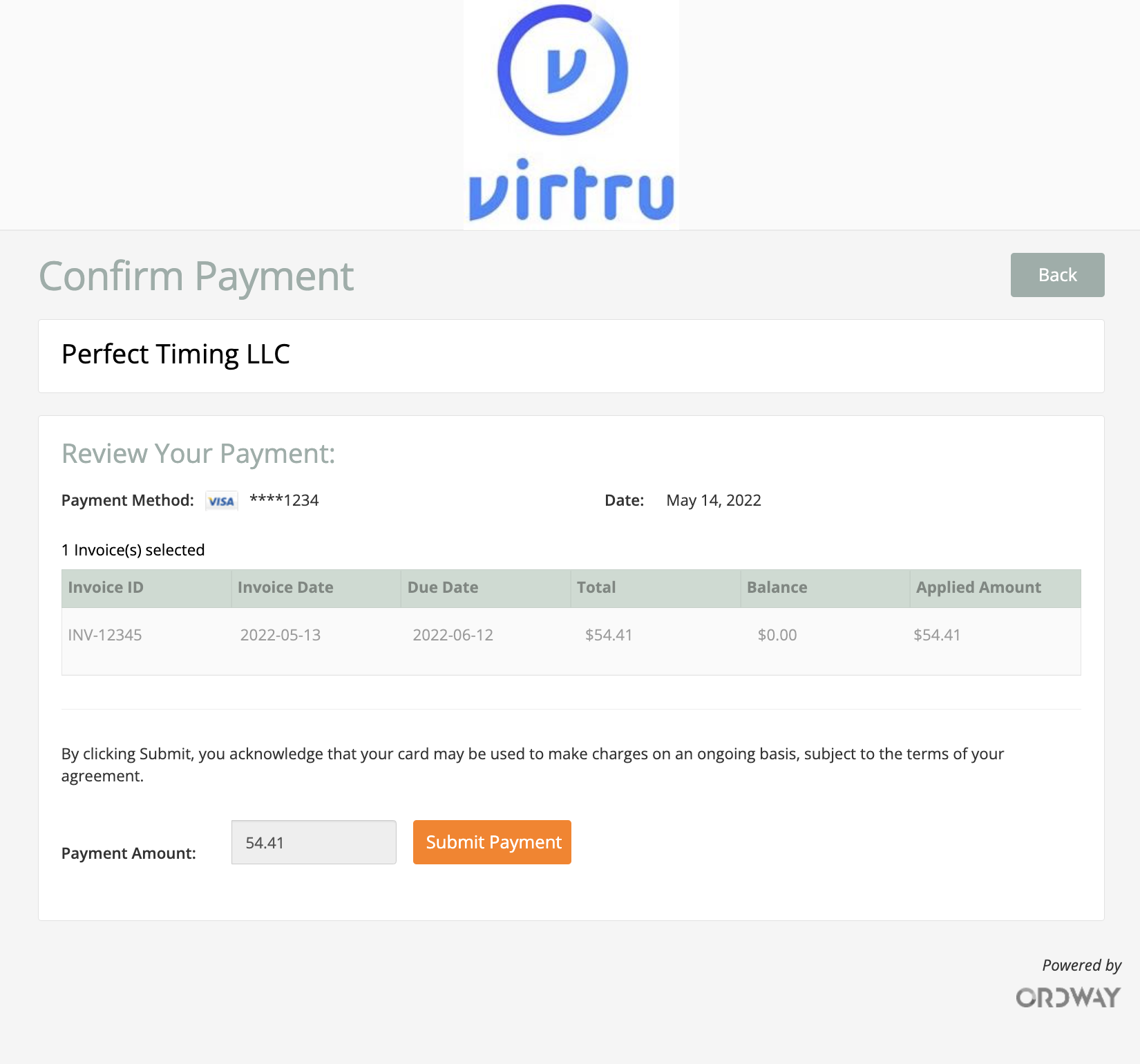 Adding a Payment Method in Advance (Or updating previous information)
You may want to update a card you already have on file or replace it with a new card, but you have not received an invoice or email notification to do so yet. If you'd like to make this change in advance, please reach out to billingsupport@virtru.com and we can provide you with a link to make that update.
Other Remittance Instructions
For payments by check or wire, you can follow these remittance instructions to send a payment to Virtru Corporation:
via regular mail to: 1801 Pennsylvania Ave NW, 5th Floor, Washington, DC, 20006-3606