Customer Hosted: Relay for Google Workspace (Gmail)
Inbound Mail
If your organization uses a non-Gmail SMTP service, you can configure the SMTP relay service to route outgoing mail through Google.
Final Delivery
If you are using Google Workspace, the Google SMTP Relay Service may be an alternative means for final message delivery. Please note that this service has volume limitations.
Requirements:
Gateway Next Hop Host: smtp-relay.gmail.com

Gateway Next Hop Port: 587

SPF record contains IP/DNS of the public IP(s) of the Virtru Gateway

In the Google Admin Console, navigate to the Apps section > Google Workspace > Settings for Gmail > Routing > SMTP Relay Service > Create your SMTP Relay Service
Create SMTP Relay Service

Navigate to the Routing Section

Navigate to the SMTP relay service section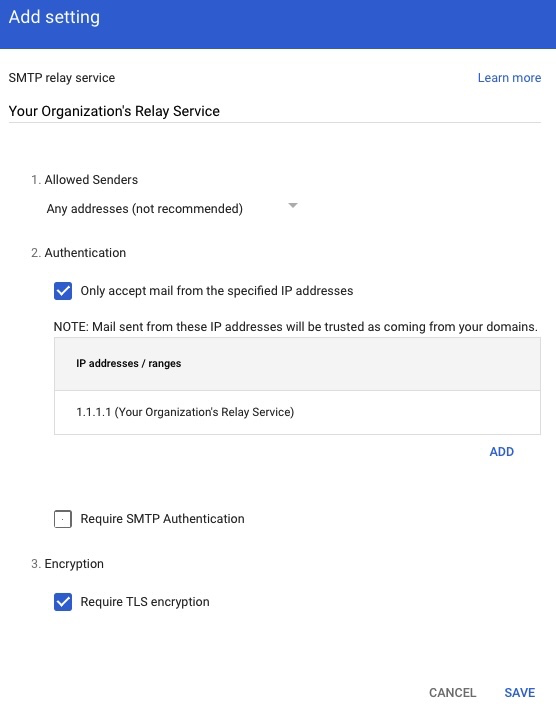 SMTP Relay Service: Enter a description

Allowed Senders: Any Addresses

Authentication: Select "

Only accept mail from the specified IP addresses"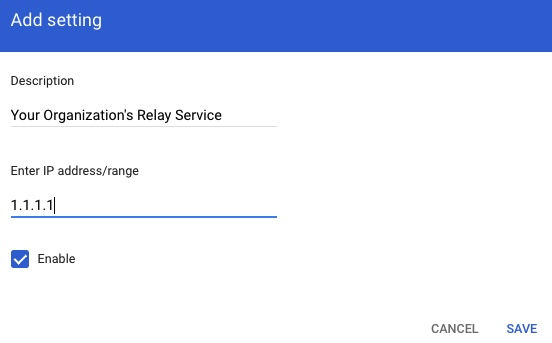 Enter a description

Enter the IP address/range

Ex: 1.1.1.1

Check "Enable"

Select "Save"
3. Encryption: Select "Require TLS encryption"
4. Select "Save"