This feature is enabled by request only
Please contact your Customer Success Manager or Virtru Support to enable this feature for your team.
About
In addition to encrypting messages and attachments, Virtru users have the ability to apply additional security settings to protected content. Among these settings is the option to apply "One-Click Access" to an encrypted email.
When enabled, a message with One-Click will not require that a user verify their identity to access a secure message. The message will still be encrypted, but once a user opens the Unlock Message link, they will be routed directly to the content in the Secure Reader. This saves non-Virtru users time and makes it easier for them to access secure content. However, it is not as secure as the full identity verification process that Virtru defaults to for normal encrypted messages without OneClick enabled.
This feature can be applied using our Gmail plugin, the Outlook add-in, or the Control Center.
Note
One-Click is not available for organizations with a Customer Key Server (CKS) and cannot be enabled on a message with Disable Forwarding applied.
Jump to:
Manage One-Click in Virtru Email Clients
Manage One-Click Access in the Control Center
Recipient Experience
Security and Compliance Considerations
Manage One-Click in Virtru Email Clients
One-Click can be set for emails before an email is sent
1. Open a new draft and toggle Virtru ON.
2. If you are using Virtru for Gmail open the Security Options menu. Security options in Outlook are always visible in the ribbon.

3. Select One-Click Access/One Click option from the menu.

4. Compose the rest of your message and Send.
One-Click can also be managed after an email is sent
1. With Virtru enabled, open the sent secure message and expand the Security Options menu. In Outlook, these settings will already appear in the ribbon.

2. Select or deselect the One-Click Access/One Click option.

Manage One-Click Access in the Control Center
1. Log into the Virtru Control Center and head to the Email section.
2. Click on the email in question.
3. In the metadata menu that appears on the right, expand the Security Settings section.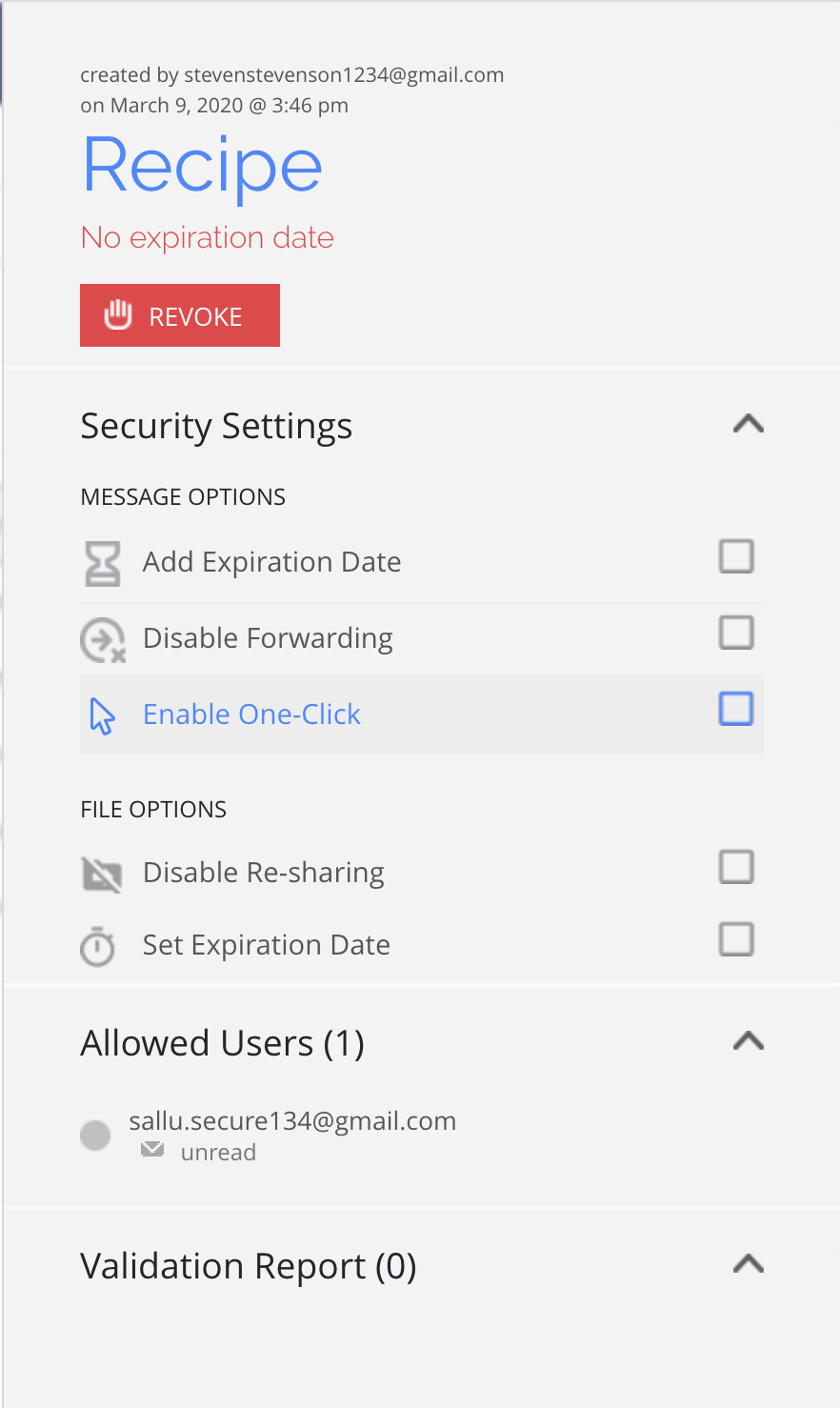 4. Make any applicable changes and be sure to select SAVE CHANGES at the bottom of the window for these updates to take effect.
Recipient Experience
When recipients receive an email with One-Click enabled, the content will still be encrypted and non-Virtru users will still see the Unlock Message template.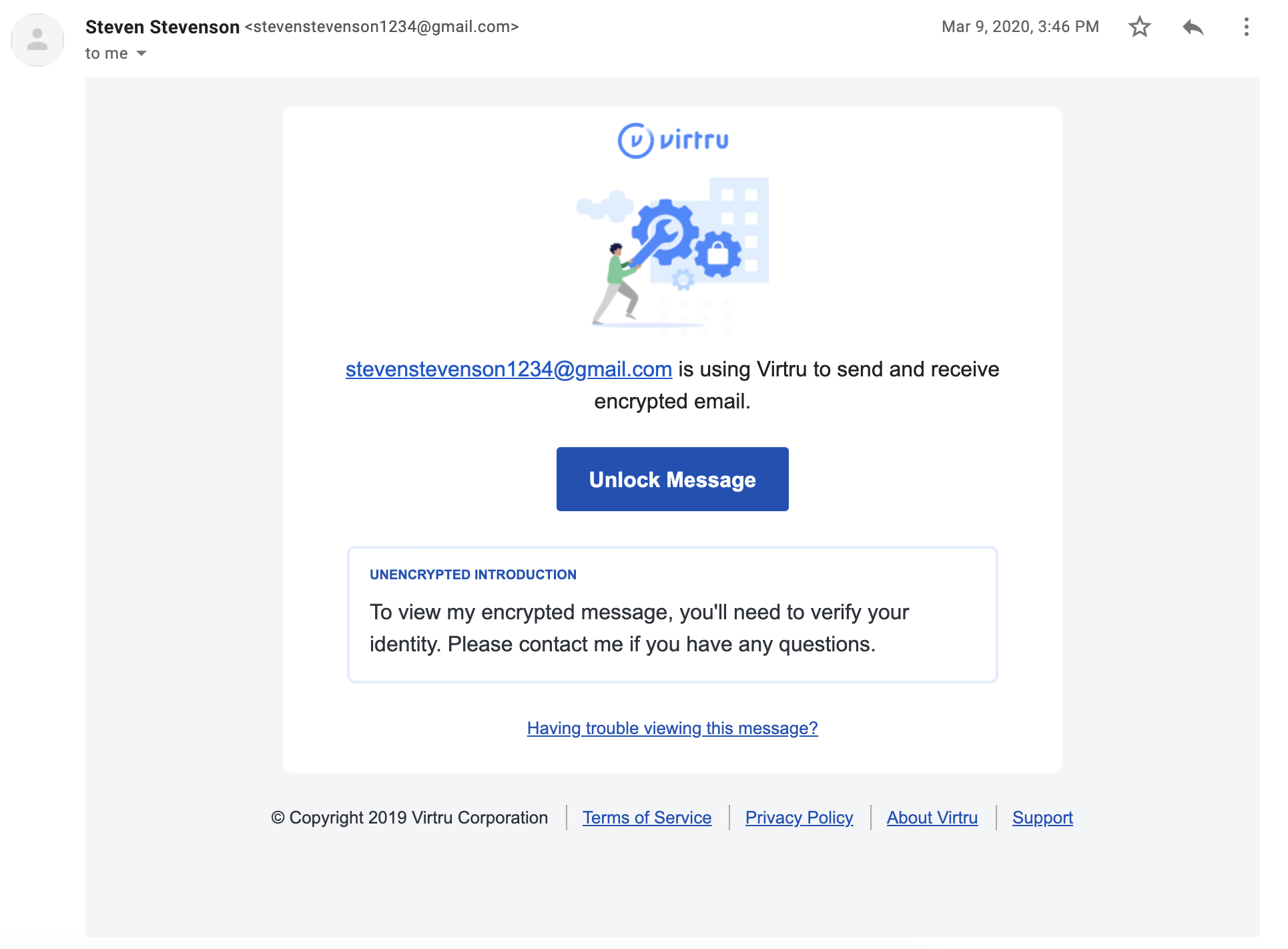 When the recipient (or any user with the link) opens the Unlock Message link, they will be routed directly to the decrypted message in the Secure Reader. They will not follow the typical verification process.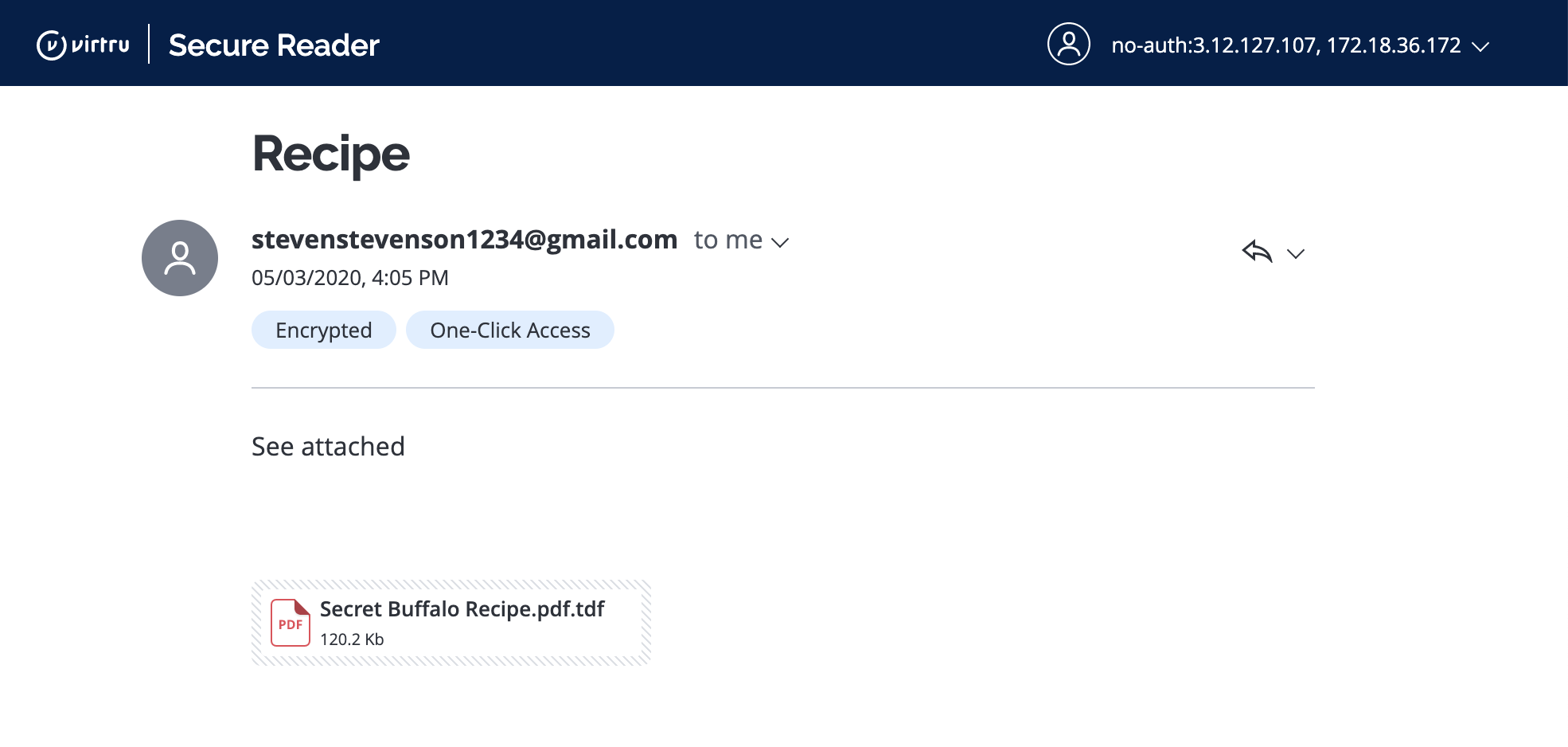 In the top right corner (if they have not previously logged into the Secure Reader), they will notice that they are logged in with their IP address.
Users will only be prompted to verify their identity if they want to reply to the secure message. This is required to ensure the authenticity of the source of any content that's in that Secure Reply and so that the user can receive a copy of their reply.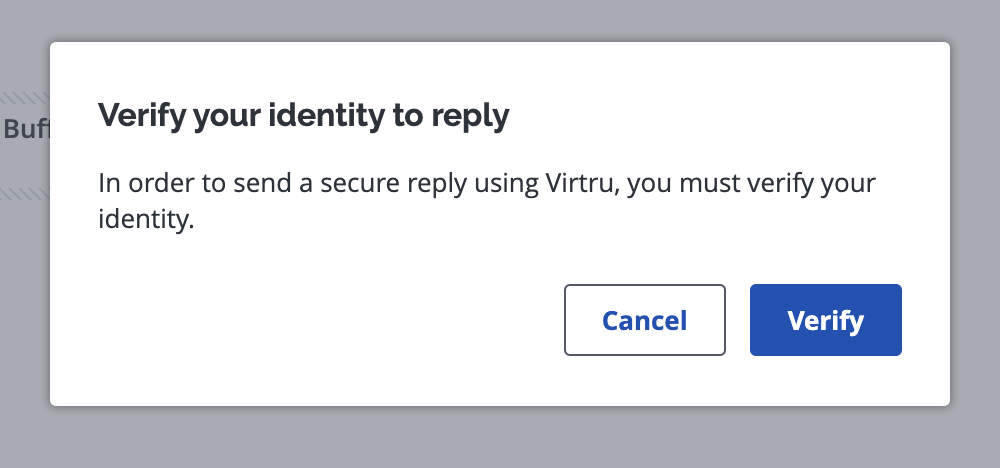 Clicking Verify will route a user to the verification screen to begin that process.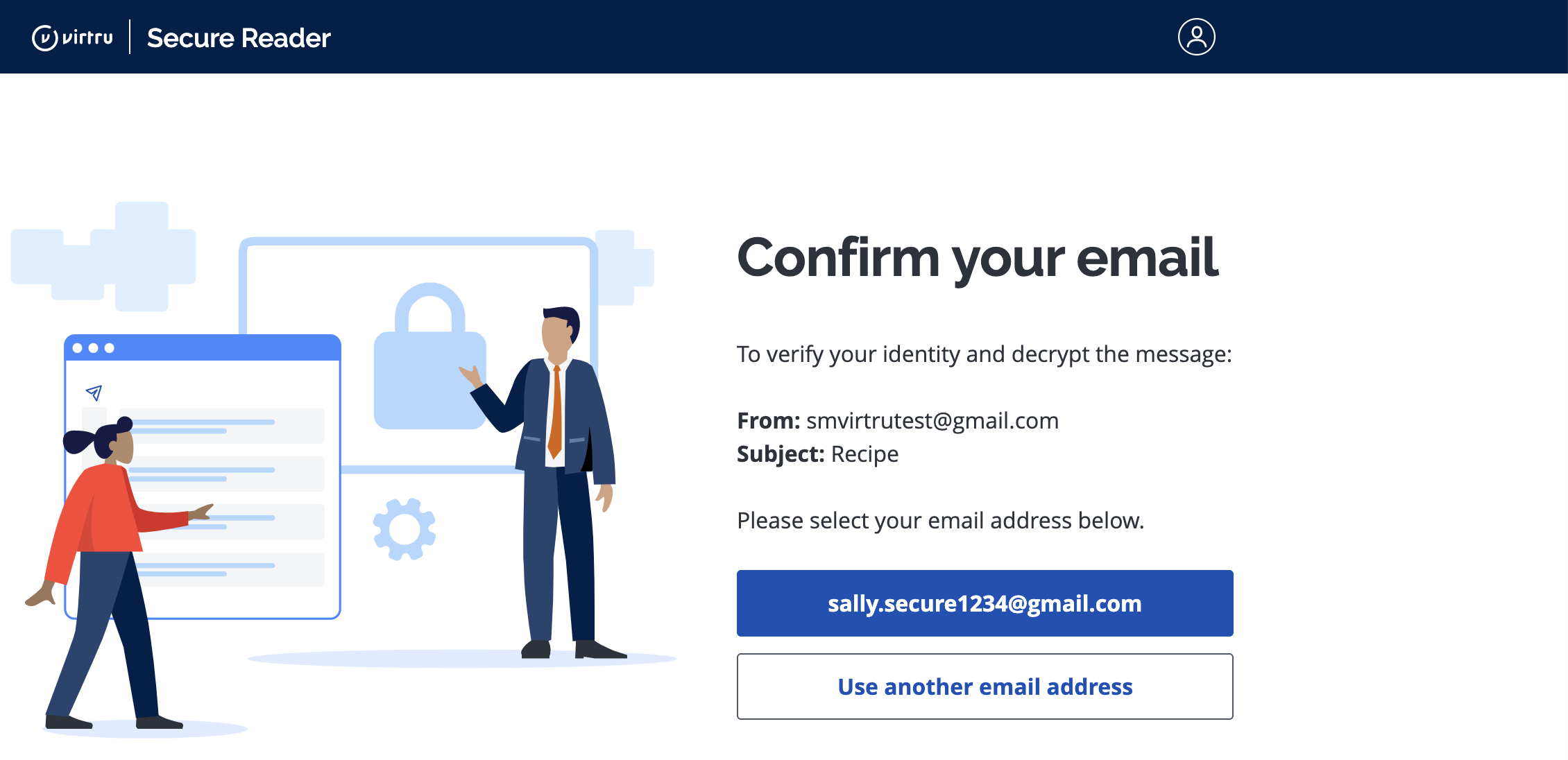 Security and Compliance Considerations:
Virtru's OneClick feature is designed to be leveraged as part of a customer's HIPAA Security compliance strategy. When OneClick is enabled, recipients of Virtru-encrypted messages will be able to access secure email and attachments in a single "click". In addition, unlike traditional encryption approaches (eg, TLS, Portal Based solutions), senders and organizations maintain control of email and attachments through on-demand revocation, setting content expiry rules, and fine-grained audit.
The OneClick feature will remove Virtru's identity verification and in the future will add an automatic 30-day expiry by default (you will need to manually enable it in the interim). Removing Virtru identity verification increases the risk that unintended recipients may be able to access Virtru-protected content before the automatic expiry. Any customer considering OneClick should consider this risk in the context of their specific use cases for this feature.