On This Page
Prerequisites
The following prerequisites are the tested, approved minimums. Other versions may function as desired but have not been tested.  The install instructions are specific to Ubuntu but should similarly for Centos.
Hardware
Minimum recommended
1vCPU
1G Ram
20G Free Storage
Network
Required Endpoints
Software
Python

Pip

Pipenv

Git Client
Virtru Audit API Export Client
Install Prerequisites
Install Python
apt install python3
python3 --version

Install Pip
apt install python3-pip
pip3 --version
Install Pipenv
pip3 install pipenv
pipenv --version

Install Git Client
apt install git
git --version
Setup Client
mkdir /var/virtru
mkdir /var/virtru/audit
cd /var/virtru/audit
git clone https://github.com/virtru/virtru-audit-export-client.git
cd virtru-audit-export-client/
pipenv install --three

Issues Installing
If the apt commands do not work as expected, the universe repositories must be enabled.
nano /etc/apt/sources.list
Add universe to the end of each line
deb http://archive.ubuntu.com/ubuntu bionic main universe
deb http://archive.ubuntu.com/ubuntu bionic-security main universe
deb http://archive.ubuntu.com/ubuntu bionic-updates main universe
Update Authentication Token
cd /var/virtru/audit/virtru-audit-export-client
nano config.ini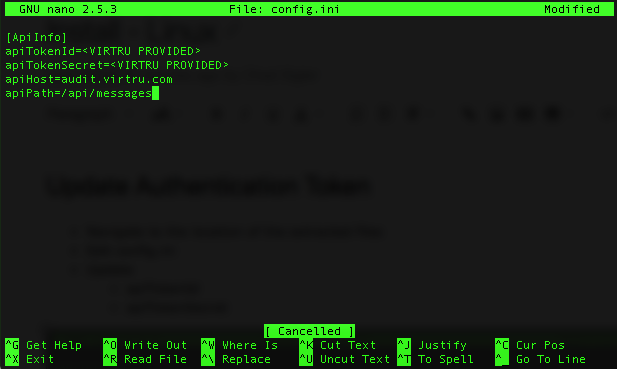 Update Values
apiTokenId
apiTokenSecret