About
Aliases and groups present a tricky situation for Virtru because we treat your email address as a proxy for your online identity. So when an email is sent to one address, such as your alias or a group list, but is then opened in an inbox owned by another address (usually a primary email address), Virtru detects that you are not the intended recipient and denies access.
Virtru's support for aliases depends on a couple of factors.
The biggest factor is whether your organization is synced or not
. In the sections below, we cover how Virtru handles aliases and groups in each situation and how to resolve any issues you experience.
Synced Organizations
If your organization has synced Virtru with G Suite or AD sync, Virtru will automatically pull in alias and group associations. If you are employing a new alias or group, all you need to do is reach out to your account administrator and ask them to refresh the domain sync to pull the updates into Virtru.
Unsynced Organizations
If your organization doesn't have a sync configured, then Virtru will NOT automatically associate your email with any groups or aliases it is tied to.
If you wish to open an email that was sent to an alias -- the secure message must be opened in the original inbox of the account that message was sent to. Trying to open a message that has been auto-forwarded to a different account will not work and is not supported by Virtru.
If you cannot log into a mailbox as the exact recipient address, in order to access this message, please use the Virtru Secure Reader by following the steps below.

Access Email Sent to an Alias/Group Address via Secure Reader
1. Open the original secure email on a non-Virtru platform (or with Virtru disabled) and click Unlock Message.
2. On the verification page, select or enter the exact alias or group address that received the email.
3. If prompted, select the Or sign-in with a one-time verification link pathway. Once the verification email is received, click Verify Me to access the secure content.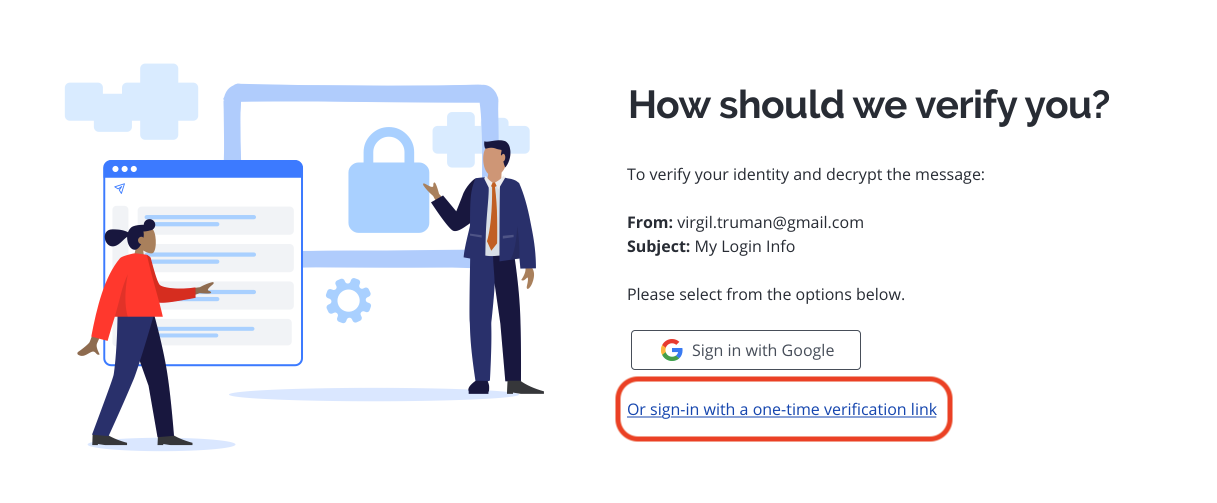 Please Note:
If the secure email was sent to a group address, all recipients of the distro will receive the verification email. If multiple members of this group are generating verifications, please be sure to use the correct verification email (the one generated during your verification process). These verifications are browser/device-specific, have expirations, and are one-time use.
If you do not wish to access the message as your alias or group address, please contact the sender and request they resend the content to your primary address.