This article covers everything you need to know about keeping your Virtru products up-to-date. Select the appropriate product from the list below to learn more about updating Virtru.
Not sure if you are on the most up-to-date version of Virtru? You can visit our Release Notes section to see the most up-to-date version of each Virtru product.
Skip to:
Virtru Chrome Plugin (Gmail, G Suite, and Drive)
Virtru Outlook Plugin
Virtru iOS App
Virtru Android App
Virtru Chrome Plugin (Gmail, G Suite and Drive)
In most cases, the Chrome plugins will update automatically, though some updates may require you to refresh your browser or restart Chrome. If needed, you can always manually update the extension by following these steps:
1. Navigate to chrome://extensions in your Chrome browser.
2. Click Developer mode in the upper right corner.


3. Click Update near the upper left corner.


Virtru Outlook Plugin
Virtru for Outlook comes packaged in two different installer types - per-user and per-machine - which apply updates differently. Not sure which type you have? It's always best to ask your IT administrator to make sure you're installing the right version.
Generally speaking, if you installed Virtru on your own, you're likely using the per-user version. If Virtru was installed by an IT administrator in your organization, there's a good chance you're using the per-machine version, in which case you should contact them for assistance in updating.
per-user
1. Click on Virtru at the top of your main inbox view.


2. Select Options


3. Click Check for Updates > follow the prompts to update.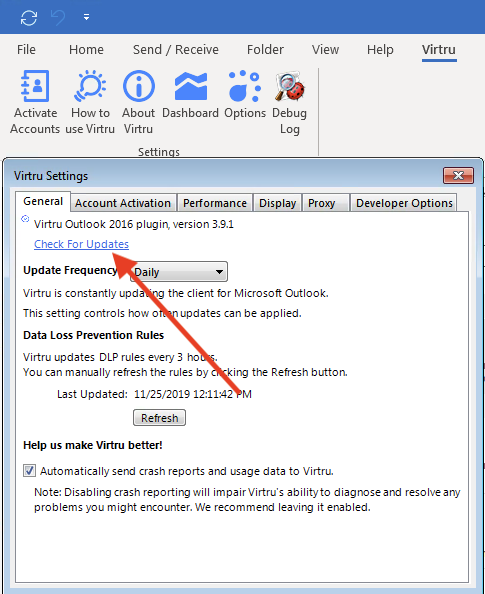 Additionally, the per-user version of Virtru for Outlook is enabled for automatic updates. You can select the frequency with which you'd like to check for available updates in Virtru's Options menu:
Select the Virtru menu in Outlook > click Options.
On the General tab > select your desired update check frequency:

Daily
Weekly
Bi-weekly
Never
per-machine
Virtru's per-machine builds are meant to be installed by an administrator for all users in a given environment, whether that be a single computer, a terminal server, or a group of users in a remote desktop environment.
For greater administrative control, the per-machine installer has automatic updates disabled, which you'll see reflected under Virtru > Options > General.
To update a per-machine build, contact your Virtru administrator or IT admin. If you are the Virtru administrator, please contact your Virtru account representative or Virtru Support to obtain the correct installer.
Virtru iOS App
If you are using iOS 13 or above, apps should update automatically. However, should automatic updates be disabled or you need to update an app manually, please follow the instructions here: Update apps or use automatic downloads.
For users on older iOS versions:
1. Open the App Store app.
2. Select Updates from the bottom menu.
3. Tap Update next to Virtru App.
Virtru Android App
1. Open the Google Play Store app.
2. Tap Menu > My apps & games
3. Tap Update next to the Virtru Email Protection app.