Here's a template welcome email that you can copy, paste and send directly to your G Suite users.
Subject: New Email Tool for G Suite
Hi Team,
I want to introduce you to, Virtru, a G Suite (formerly known as Google Apps) add-on that we will be using to encrypt our emails and attachments. You can use Virtru to send encrypted messages without ever leaving your inbox – and without your recipients downloading any software or creating any passwords.
Follow a few quick steps to get started:
Download the appropriate Virtru plug-in from the Virtru website. You must be using Google Chrome to send w/Virtru from Gmail in the browser.
Click 'Install Virtru for Free,' and follow the message prompt that appears.
Open your Gmail account, click 'Compose,' and turn on the Virtru protection bar at the top right of your message.
Click the button in the message window to activate Virtru for your email account.
If you'd like to see how to install, activate Virtru, and learn how to use some of its cool features like revoke or control forwarding, download this quick start guide.
Please let me know if you have questions, or reach out to Virtru support directly. I've included an email template below that you can use to alert any recipients you'll be sending Virtru emails to frequently, as well.
Thanks,
Your Friendly G Suite Admin
—–
Subject: [COMPANY NAME]'s New Email Tool
Hi [YOUR RECIPIENT'S NAME],
Some of the emails I'll be sending to you might look a bit different going forward, and I want to let you know why.
We recently adopted a new tool called Virtru here at [YOUR COMPANY'S NAME]' to encrypt our emails and attachments. Virtru makes it easy for us to share sensitive information with you in a safe and compliant manner.                            
When you receive a message from me that was encrypted with Virtru, it will look similar to this: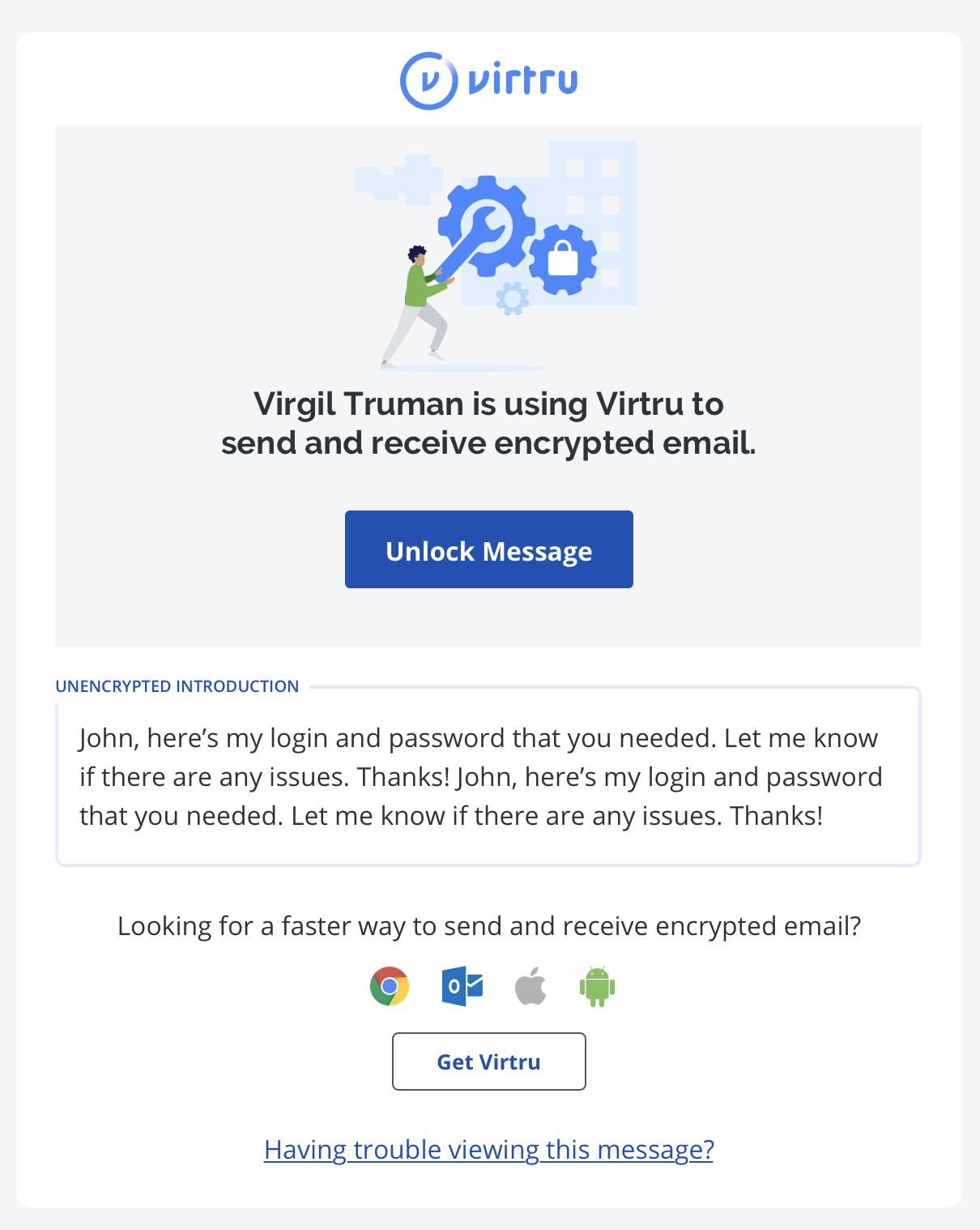 From here, all you need to do is click 'Unlock Message' and follow the prompts that appear. You don't have to create any new passwords or accounts, or go to a portal. It's super easy.
You should check out this article from Virtru's site or watch this demo for more detailed instructions.
If you want to read and respond to my Virtru messages directly from your inbox, you can download Virtru's free product here. Otherwise, you can access my messages from your web browser using the above instructions – as long as you are not using Internet Explorer 9 or older.
[COMPANY NAME]' has benefited from the easy protection Virtru provides. I hope you will, too.
Please email or call me with any questions, and check out Virtru's Support Center if needed.
Thanks,
[YOUR NAME]
[YOUR PHONE NUMBER]