About
This article will walk through some common troubleshooting tips when Virtru DLP rules are not firing in expected scenarios.
Steps to Troubleshoot
1. Manually pull in rule updates
If you have recently made changes to your DLP rules, then there is a chance that your Virtru instance has not yet automatically refreshed to incorporate the changes. After making any changes in the Control Center, it can take up to three hours for those changes to automatically apply. However, users can manually refresh their rules by refreshing/restarting their mail platform.
If your organization uses an on-premise Gateway, restarting the Gateway container will manually refresh the rules.
2. Ensure that the user is a part of your Virtru team.
If your organization has performed a G Suite or AD sync with Virtru, then any email address on your Users & Groups page is a member of your team. If your team is managed manually, then please ensure that the user has accepted their invitation on the Users page:

3. Make sure the email is passing through Virtru
If your team uses the Gmail browser plugin or the Outlook add-in, DLP rules will only trigger if the user has completed activation. If a user has an inactive plugin, they will see options to Activate Virtru.
Gmail

Outlook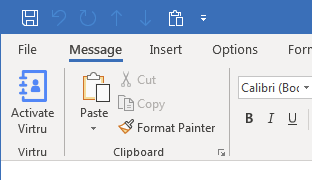 If your organization uses a Virtru Gateway, check the mail logs to ensure that the message is routing properly.
4. Rule syntax errors
If everything above is correct, please double-check the rule configuration to look for errors. Guidelines on rules can be found here: Creating Custom DLP Rules.
5. Contact Customer Support if you are still experiencing problems.