About
This article covers how to retrieve debug logs for Virtru's Outlook plugin and submit them to the Virtru Customer Support team. These steps may be required when troubleshooting some Outlook issues. The logs give Virtru Customer Support more detailed technical information, which helps save you time and effort during the troubleshooting process.
If you're experiencing issues with your Virtru add-in, your Virtru contact may ask you to submit debug logs. The instructions below walk you through how to submit the debug logs.
Please Note:
Submitting your logs will not automatically open a support ticket for you. If you haven't already been working with a Virtru team member and require assistance, please contact our Support team.
How to Submit Debug Logs
There are two ways to submit debug logs. The easiest way is through the Virtru plugin.
Submit Debug Logs via the Virtru Plugin
1. Select Virtru from Outlook's main menu.

2. Select Debug Log to open your log in a new window.

3. Click Send Debug Log to Virtru to submit. The log will be sent automatically as a password-protected .zip file.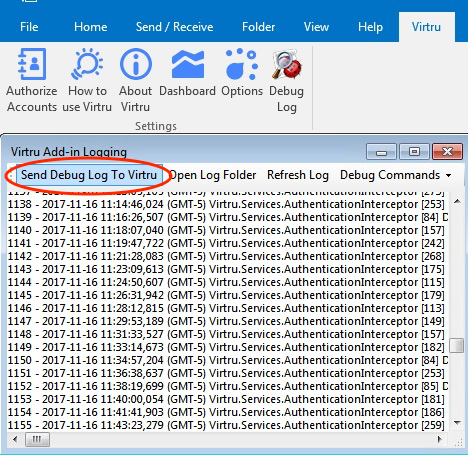 Submit Debug Logs Manually
If you are having trouble submitting debug logs via the Virtru Plugin, you can follow these steps to submit them manually:
1. Open your Run menu and type %appdata%
2. In the folder that opens, select Virtru > Virtru for Outlook > Logging.
3. The files Virtru needs are called "adxregistrator.log", "adxloader.log", and "VirtruAPIs.log". You can simply attach them when you open a new support ticket or reply to an existing one.