When you install Virtru for Chrome, you'll see the dialog below informing you that Virtru is requesting permission to "Read and change all your data on the websites you visit".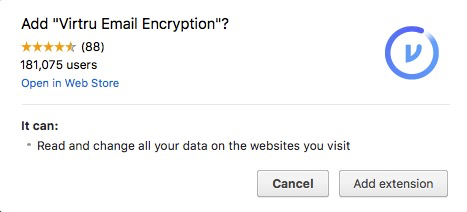 This is because the Virtru browser extension was historically compatible with multiple webmail providers including Yahoo, Outlook.com, and Gmail, requiring us to request permission to multiple websites.  Since those URLs are subject to change occasionally, we opted for the "All websites" option to prevent needing to update that list.
Since this extension no longer support any webmail providers except Gmail, we intend to reduce the level of access that we request to reflect that change.
To offer a little peace of mind until we're able to make that change, we can confirm that, though we request "all sites" access, we're only interacting with the pages where you need Virtru functionality: Gmail.com and Google Vault.  You can verify this by unpacking the extension and viewing the manifest.json file:
  "content_scripts": [{
    "css": ["css/virtru.css"],
    "js": ["js/shared.bundle.js",
    "js/xregexp-shared.bundle.js",
    "js/gmail-content.js",
    "js/gmail-page-inject.js"],
    

"matches": ["http://mail.google.com/*", "https://mail.google.com/*"]


  }, {
    "css": ["css/virtru.css"],
    "js": ["js/shared.bundle.js", "js/virtru-content.js"],
    "matches": ["http://*.virtru.com/*", "https://*.virtru.com/*"],
    "run_at": "document_start"
  }, {
    "css": ["css/vault.css"],
    "js": ["js/vault-shared.js", "js/vault-content.js"],
    

"matches": ["https://ediscovery.google.com/*"]


  }],