If Virtru suddenly appears to be missing in your Outlook application, the Virtru add-in may have been disabled or deactivated. In this article, we will walk you through how you can get back up and running in no time.
Steps to Troubleshoot
Basic Troubleshooting
1. In the Outlook menu click Open File > Options > Add-ins
2. Look for Virtru in the list of add-ins.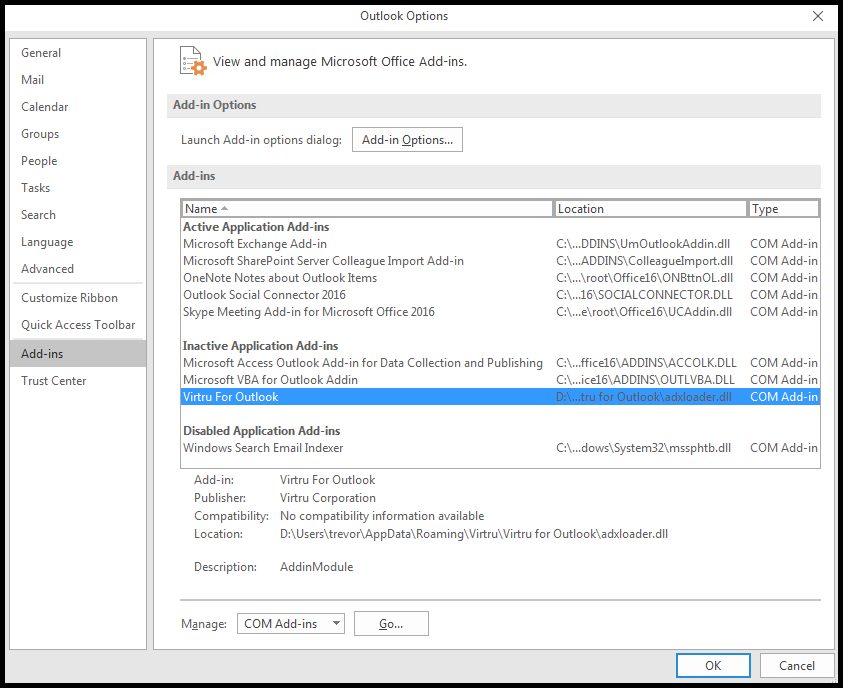 3. Notice which section the Virtru For Outlook add-in is listed under and then follow the appropriate steps below:
If Virtru is listed under Inactive Application Add-ins:
At the bottom of the window, select Manage: COM Add-ins > click Go
Check the box next to Virtru For Outlook > click OK
Restart Outlook
If Virtru is listed under Disabled Application Add-ins:
At the bottom of the window, select Manage: COM Add-ins > click Go
Select Virtru from the list of disabled add-ins and click Enable
Restart Outlook
Alternatively, you can make these changes in the File Menu:
Click on File > Info > and select Manage COM Add-ins in the Slow and Disabled COM Add-ins section
Enable Virtru for Outlook.
Virtru Consistently Going Inactive
If you experience this problem on a consistent basis, you'll want to reset the resiliency settings:
Uninstall Virtru from Control Panel > Programs > Programs and Features
Delete Outlook's resiliency settings:

Open your Registry Editor from the Windows Run menu by typing 'regedit' and hit Enter.
Navigate to HKEY_CURRENT_USER > Software > Microsoft > Office > Select [version number] (see note below for more information) > Outlook > Resiliency > DisabledItems
Delete the 'REG_BINARY' file; the filename will be a string of numbers and letters. Leave the '(Default)' file intact..
*Please Note
Note that under Office, the numbers 16.0, 15.0, 14.0, and 13.0 refer to the version of Outlook; 16.0 for 2016, 15.0 for 2013, 14.0 for 2010, etc, so make sure to use the one that corresponds to the version of Outlook on your computer.