Occasionally users attempting to authorize Virtru for Microsoft Outlook will get stuck on the 'Authorizing...' step: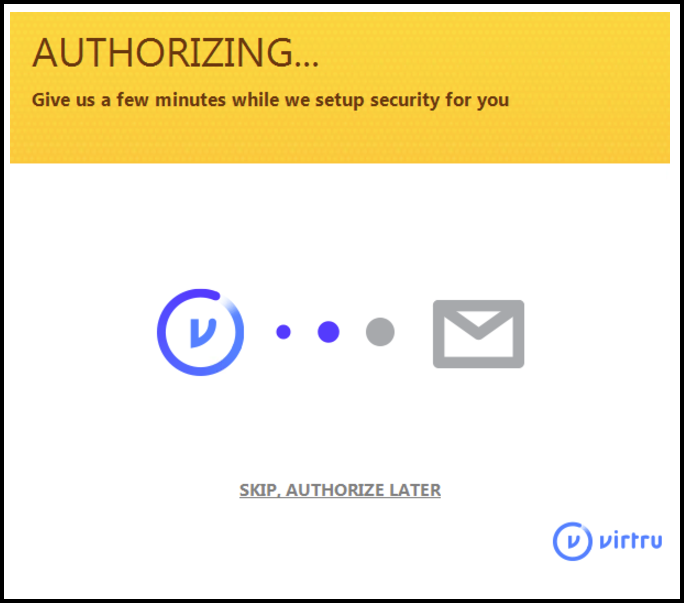 This behavior occurs when Virtru is unable to complete the authorization process, during which Virtru will send an email to the authorizing user's email address and the Virtru add-in will search for this email in your inbox. When found, Virtru will automatically delete it and complete your authorization.
Here are some troubleshooting steps to help you complete this process:
Make sure you are receiving the activation email. This email will come from the address "noreply-activation@virtru.com". If you are unable to locate the activation email, please contact your IT administrator to troubleshoot.  
Make sure the activation email is in your inbox. Virtru will only search your inbox for the activation email. If this email lands in a folder other than your inbox, you will need to follow these steps

 to include other folders in Virtru's search: 

Open the Virtru menu and select Options > Account Activation.  

At the bottom of that window, check the boxes for both 'Search all accounts for activation emails' and 'Search subfolders of Inbox and Junk for activation emails.'  

Select your email address and click 'Activate Selected'.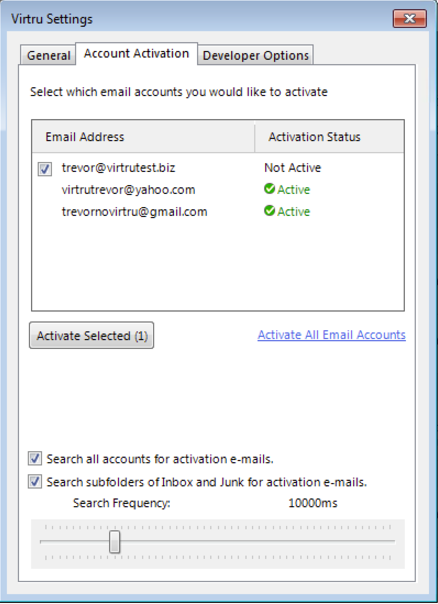 If you have completed these steps and Virtru is still not able to authorize, please contact our support team and submit your Virtru Debug Logs when you submit your ticket. To submit your logs:
Click the Virtru menu in Outlook 
Select Debug Log
Select Send Debug Log to Virtru
Note that submitting your logs will not automatically open a support ticket for you.  If you haven't already been working with a Virtru team member and require assistance, please contact our Support team.